Zimbabweans are taking part in their first presidential elections in nearly 40 years without Robert Mugabe on the ballot paper. The ecumenical Zimbabwe Council of Churches (ZCC) has election monitors at polling stations throughout the country and are reporting mainly peaceful elections with some abnormalities. The front-runners are current acting-President, Zanu-PF's Emmerson Mnangagwa, who took over when Robert Mugabe was forced to stand down last November and MDC Alliance opposition leader Nelson Chamisa.
Earlier this month, bishops and pastors from ZCC member-churches led an ecumenical service at the Anglican Cathedral of St Mary and All Saints in Harare to pray for election observers. The service was attended by the retired judge, Justice Selo Nare, who chairs the new National Peace and Reconciliation Commission (NPRC). This body was established to ensure "post-conflict justice, healing and reconciliation" and to "develop and Implement programmes to promote national healing, unity and cohesion in Zimbabwe and the peaceful resolution of disputes".
ZCC's General Secretary told the congregation to prepare for the day "where we will pray to God thanking him for the peace that has prevailed thus far." He said that the Churches would "continue to commit our work and country to God so that he leads us into prosperity."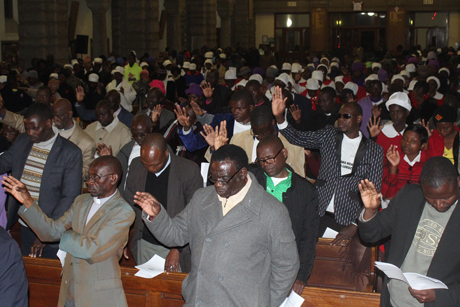 Yesterday, on the eve of the election, the ZCC issued a "pastoral pronouncement" which began with words of comfort: "The words of our Lord Jesus Christ – 'Let not your hearts be troubled' give assurance to an anxious nation," the statement said. "Some are anxious whether the peace we have enjoyed in this pre-election period will hold. Others are worried if their voice will be heard through the ballot. Still some wonder if the nation will find each other after so much divisive campaign period.
"Jesus reassures us, 'peace I give unto you not as the world gives'. We receive this reassurance as we continue to pray for peace today, tomorrow and after the casting of votes."
They say that: "Elections tend to produce winners and losers. We know that sometimes results can get disputed. We pray that such electoral disputes will not be used to ignite politically motivated violence. We call upon Christians in political leadership to restrain their followers and to do all that which will prevent violence.
"We are not choosing from amongst angels but from amongst fellow human beings with strengths and weaknesses. We will therefore need to pray for whoever comes out the winner as they will need God's help and our support to mitigate their weaknesses."
In words directed towards the politicians, the Church leaders say: "We know that in the context of political competition a lot of words are used and messages exchanged to promote one party or candidate over and against the other. When all has been said and done, we pray that our political leaders will find each other and work together for the prosperity of all Zimbabweans."
And they concluded with a plea to Christians "to pray and go out to vote" and to all Zimbabweans "to vote in peace."
This lunchtime (Monday) they issued an update from polling stations around the country and report of peaceful elections. But in many they report long queues and slow progress; and a number of anomalies in a number of areas, including People being turned away because their names were not on the voters roll, at least one paper of an issued ballot already showing a vote for a candidate, and polling tents which are not accessible to people with disabilities.
In Manicaland, they report that Zanu-PF "is intimidating MDC individuals forcing them to lie on whether they are blind or deaf."
Some 5,635,706 people are registered to vote in election to select a president, 210 members of parliament and more than 9,000 councillors. Polling stations opened at 7 am CAT (5 am GMT) and will remain open until 7 pm (5 pm GMT) this evening.
Counting will begin straight away in districts and results for local and parliamentary elections will be announced as they are known. Presidential votes will be counted locally but the winner will be announced by the country's electoral commission within five days.